Symbolika krzyża
Najbardziej rozprzestrzeniony jest w religii prawosławnej i greckokatolickiej krzyż o ośmiu końcach, który nazywany jest także krucyfiksem.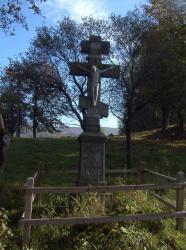 Na osi wertykalnej znajdują się trzy belki poprzeczne.

Środkowa belka, duża, jest dla rąk ukrzyżowanego Chrystusa.

Górna belka oznacza tabliczkę z napisem Jezus Nazarejczyk, Król Żydowski. Taki napis w trzech językach (greckim, łacińskim i żydowskim) rozkazał przybić do krzyża Chrystusa Piłat. Był to rzymski zwyczaj ukazywać na tabliczkach winę skazanego. W tradycji prawosławnej, inaczej niż w katolickiej, nogi Chrystusa przebite są nie jednym gwoździem, lecz dwoma, każda noga oddzielnie. Jak wykazują badania Całunu Turyńskiego, tak było w rzeczywistości.

Dolna belka belka jest pod nogi Ukrzyżowanego. Jeden jej koniec jest lekko podniesiony. Ten podniesiony koniec pokazuje na niebo, dokąd udał się dobry łotr, ukrzyżowany razem z Chrystusem, a drugi, opuszczony, na piekło, miejsce dla drugiego łotra, który nie wyraził skruchy.

Często na dole krzyża można zobaczyć wizerunek czaszki. To głowa Adama, który, według legendy, został pochowany na Golgocie, pod miejscem ukrzyżowania Chrystusa. Po szczelinie w skale pod Krzyżem na głowę Adama ścieka kropla krwi Chrystusa, przywracająca życie Adamowi, człowiekowi, ludzkości. Obok krzyża często przedstawiona jest Bogurodzica i ukochany uczeń Chrystusa, apostoł Jan. Często przedstawiane są narzędzia męk Chrystusa, włócznia, którą przebito Mu bok, i gąbka z octem, którą podał Mu rzymski żołnierz.

Czasami można zobaczyć krzyż z półksiężycem. Niekiedy ludzie myślą, że jest on symbolem zwycięstwa prawosławia nad islamem. Ale krzyż z półksiężycem znany był długo przed starciem chrześcijan z muzułmanami, w czasach wczesnochrześcijańskich. Półksiężyc symbolizuje również eucharystyczny kielich z Krwią Chrystusa, zmazującą ludzkie grzechy. Takie krzyże stawiane są na świątyniach, poświęconych Bogurodzicy, ponieważ księżyc, półksiężyc jest znakiem Bogurodzicy, zaś krzyż, znakiem słońca i symbolem Chrystusa.
---
Wszystkie uwagi kierować proszę na adres bartek@beskid-niski.pl>




beskid-niski.pl na Facebooku